Learn about Leasing 101
---
Understanding a Lease
---
My family has been selling cars south of Boston for 96 years, and we want to share some of the knowledge we have accrued. Since opening in Weymouth, Good Brothers Dodge has been serving the south shore as its premier truck dealer.
Leasing is a big part of the way people today buy cars. You have probably seen the lease specials being advertised on ours and everyone everyone else's websites. "Lease now for $99/mo!" or whatever we have on our specials page this month.
With all the information out there, it can lead to some very understandable confusion. Rest assured, we are happy to help clear up any misunderstanding.
Here are the two most common questions we get on our specials.
What is a lease?
How do these lease specials actually work?
Lets start with an example truck. Always best to talk about something specific due to the way many manufacturers apply their incentives and rebates.
Below you can take a look at the video walk-around we did on our Ram 1500 Laramie lease special from March this year.
Here is a window sticker for this same truck.
You noticed this is a base unit, no optional equipment listed, just all that is standard.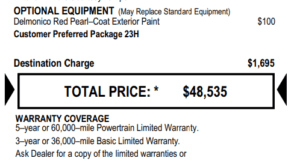 First, to understand what a lease is.
It is a bit of a complex loan, but when it comes down to it, that's all  it is. Just another way to finance. The difference between this and a standard note? Here, the bank is taking on a bit of the risk themselves.
And now…. math… my eyes are already glossed over. Don't worry I will keep this in as simple terms as I can. No, this is not a comprehensive lease calculator. No, you cannot use this information to figure a lease payment out on any vehicle. Sorry, just trying to cover the basics here!
To understand a lease, there are a few variables;
Price of the car – MSRP

Rebates – Discounts from the manufacturer to discount the price of the vehicle

Cash down/trade

Residual value – This is the big one
I say that because the residual is the main driving force behind the low payments available when you lease. This is also the risk I referred to earlier, the lending bank is taking on. To find this number, the bank, using all their wisdom, looks at a particular vehicle and says, "in three years time, and with 45,000 miles, this truck will be worth…. the residual value. Do they know the future? is this all a game? No, they just guess based on all the information they have. Trust me, they are good at guessing.
So the math goes something like this.
MSRP minus the rebates is your selling price.
Your selling price minus the residual amount is the amount of the loan you will be paying on.
So if this Laramie had a selling price of 40,000 (round numbers for easy digestion) and has a residual amount of 60% or 24,000 then you would be paying on essentially a 16,000 loan.
If you have a 5,000 trade and 1,000 to put down, all of a sudden your loan amount goes to 10,000.
Divide that 10,000 by 36 months and BOOM you have a terribly simplified way to calculate a 277/ mo payment. Again just for information's sake, if you want a more in depth understanding I think I will have to refer you to the bank lol.
Does that help you understand what a lease is? Ya, me neither. Most people only get so far as, "new car, low payment" and move on.
Now question number 2, how do lease specials work?
What most people miss:
Lease payments are due at the start of the month, not the end. So technically, you owe the bank a payment before driving off the lot. This is one of those things that falls outside my simplistic take on what a lease is. A part of the lease calculation classified as "up front costs." So technically, due at signing when you lease is the first months payment, and other various fees. These other fees usually bring the total of the up front costs from a few hundred to maybe one thousand dollars. If you want to negotiate with clarity, ask to use terms like "total cash due", and avoid talking about "down payment." Take a look at our specials here
Please also keep in mind some of these lease specials will be for "well qualified buyers" which is almost always referring to a rebate you must qualify for. Check your dealers disclaimer for anything that might be included.
This is where the tree types of lease special structures come in to play. There are specials with money down, no money down, and even some are sign and drive. So of course after what we were discussing those would imply that its, cash down plus up fronts, no cash down plus up fronts, and then truly no money from you.
Wrap Up:
Now we have a *SUPER* basic over-simplified understanding of how leases are calculated and a quick gloss over some of the popular terms used in advertising a lease special. This is definitely a different loan for many people, so if you still have some questions, reach out to our salesman, they are here as a resource for you. We want to answer all of your questions.
Hopefully you learned something so far, but if you didn't, take this one message home.
This is the auto industry, feel free to negotiate! It seems like a dirty word, but its not. Its just the way things have been done since before sliced bread was a thing. (Trust us, we have been doing this since 1924) Worst thing that happens is what you were hoping to see happen, just mathematically can't, and you leave our store knowing, not every dealership experience is the ball of anxiety you remember!
Thank you for reading!
Sean Good
Good Brothers Dodge
781-331-8300
www.GoodBrothersDodge.com